Woodworkers Explore Synergy Thermal Foils' Display at IWF 2014
September 2014

More than 14,000 woodworkers from throughout North America and beyond came to the 2014 International Woodworking Fair (IWF) in Atlanta to explore nearly 450,000 net square feet of woodworking machinery and supplies.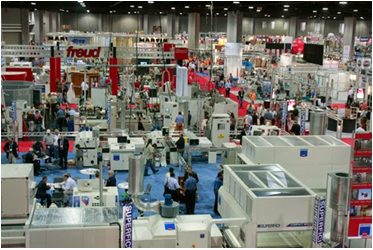 Synergy Thermal Foils was one of the 920 exhibiting companies and we were more than ready for the crush of next wave of discoverers. Our booth highlighted several new 3D laminates (3DL) paying homage to great New World explorers like Christopher Columbus, Henry Hudson and Meriwether Lewis.
Our ode to Columbus included Santa Maria a 3DL match for Funder America's Santa Maria Maple thermally fused laminate (TFL) (#215) and Lab Designs Clark high pressure laminate (HPL) (#215T).  We also launched Nina Maple a match for Lab Designs' Nina HPL (#224).
We think our booth visitors quickly discovered that Hudson  goes nicely with TFL Hudson panels offered by KLM (KMD #7342) and Funder (#222). With Lewis Cherry 3DL, we paid homage to Meriwether Lewis of Lewis & Clark fame; it's a great match with many leading TFL products including Flakeboard Ankara Cherry (#WF236), Funder Lewis Cherry (#214), KML Lewis Cherry, Lab Designs Lewis Cherry (#214), Roseburg Chocolate Cherry (#207) and Uniboard Choco Cherry (#207).
One other new product we were proud to showcase at IWF was Shark Grey Gloss a cool contemporary color that caught the designer's eye of many of our booth visitors. It's quickly risen to our third best-selling gloss color after white and black.
Of course these new 3DLs barely hint at the full range of products that Synergy Thermal Foils stocks for quick delivery.
We invite you to explore our website to learn more not only about our 3DLs, but 2DLs, deco foils and light weight basis papers.