WMS In Review
November 2017

The 2017 Woodworking Machinery & Supply Expo (WMS) that took place on November 2-4, 2017 in Toronto, Ontario ended on a high note for STF. With nearly 4,400 attendees and over 270 companies and brands represented this has been one of the largest turnouts for the WMS biannual show.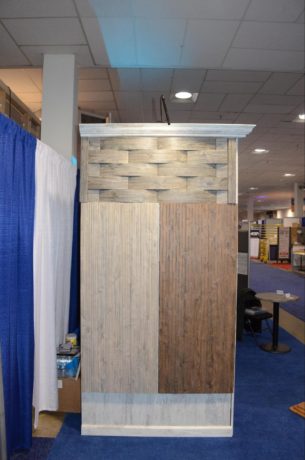 At this year's WMS, STF showcased our new ULTRA laminate program, a new 1D laminate that comes in 2 finishes: ultra-gloss, and ultra-matte. Attendees were captivated by the high gloss finishes that reflected so well, they could be used as a mirror! Additionally, we demonstrated the high scratch resistance in both finishes, a unique feature that makes it stand out from other laminates.
Another hot topic at our booth was our new line of solid colors. Greys have been the fastest trending color in the kitchen cabinet industry and STF was proud to display range of solid greys: Folkstone Grey, Gun Metal Grey, and Battleship Grey. Each of these designs has a corresponding TFL and HPL matches (see below). Alongside the greys, Deep Blue Sea received a lot of buzz as being a nice subtle color to add to any finished design and we think blue is the new grey!
Synergy also exhibited our in-depth matching programs with major TFL and HPL manufacturers such as Tafisa, Uniboard, and Arauco to demonstrate the seamless design possibilities when working with STF's products. But we did not stop there, additionally presenting the versatility of thermofoil from crown molding to the intriguing decorative wall paneling.