WMS 2015
November 2015

Canadian's Will Not Forget Synergy Thermal Foils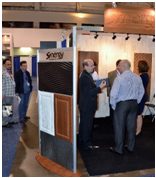 We introduced new designs that you cannot forget for our second showing at Canada's largest woodworking event, the Woodworking Machinery & Supply Expo (WMS) held at the International Centre in Toronto.
Attendees flocked to our booth where we showcased some of our newest additions to our 3D Laminate collection. Our biggest hit was Memento, a perfect match to Uniboard's Memento (H76). It caught the eye of everyone who walked by; even our colleagues at Uniboard stopped by multiple times to admire our display of Memento.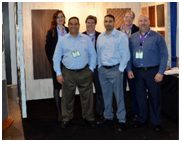 Other designs that were showcased at this year's WMS were Brown Pear and Grey Pear matching Formica's Espresso Pear (F5489) and Smokey Brown Pear (F5844) respectively. For those with a sweet tooth we expanded our line of chocolates, Milk Chocolate being our latest addition alongside White Chocolate and Dark Chocolate match Tafisa's Milk Chocolate (L493), White Chocolate (L492) and Dark Chocolate (L494). Music lovers rejoiced when they saw our Soprano and Baroque matching Flakeboard's Soprano (WF341) and Baroque (WF204).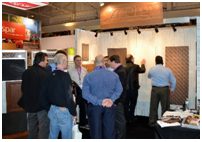 This year's WMS Expo was a huge success with nearly 4,000 attendees and 1,400 registered exhibitors. Synergy Thermal Foils had the opportunity to strengthen our connections with Canadian manufacturers of cabinets, closets, store fixtures, commercial interiors and more. This year's WMS was one for the books and we are excited to see what WMS 2017 will bring us.