What Might the U.S. Housing Market Look Like in 2022?
April 2021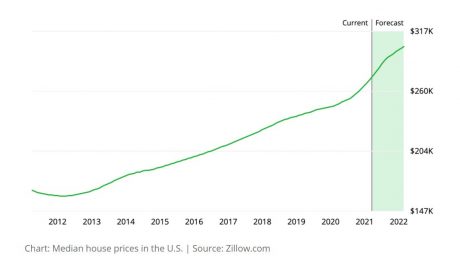 With nine months still to go in 2021, the Home Buying Institute (HBI) takes a "best guess" at what might be in store for the 2022 real estate market based on its analysis of current trends. They include:
Higher mortgage rates dampen home buying demand: Last year (2020) was a big one for the nation's real estate market. Home buyer demand surged, despite a global pandemic and economic slowdown. Record-low mortgage rates contributed to this, along with a newfound appreciation for homeownership.
While demand remains strong today, HBI expects to see less demand among home buyers in 2022 primarily because of expected high mortgage rates. HBI forecasts a 30-year fixed loan rate to climb to 3.6% by the end of this year, compared to the current average rate of about 3.0%. HBI's forecast is corroborated by one recently issued by the Mortgage Bankers Association that home lending rates will increase. Higher interest rates would have a dampening effect on home-buyer demand.
Rising home prices: In spite of the coronavirus pandemic, U.S. home prices steadily increased during 2020 and into the first quarter of 2021. According to data compiled by Zillow, the median home value rose about 10% between March 2020 and March 2021. Based on current conditions, HBI predicts home values to continue rising, albeit at a slower pace.
Home inventory crunch: According to a recent housing market report by Realtor.com, inventory levels continue to drop across much of the U.S.; the number of homes for sale in March 2021 declined by 51%. New home construction could bring add to the available housing stock in some markets. Nevertheless, HBI assumes that supply constraints will continue to be a dominant issue for the U.S. real estate market well into 2022.
Renting vs. buying: A number of U.S. housing markets already place renting over buying for cost-conscious consumers due to home-price appreciation. HBI says this trend could continue into 2022, especially if home values continue to climb steadily as expected.