U.S. Economy: Positive Signs for GDP
October 2016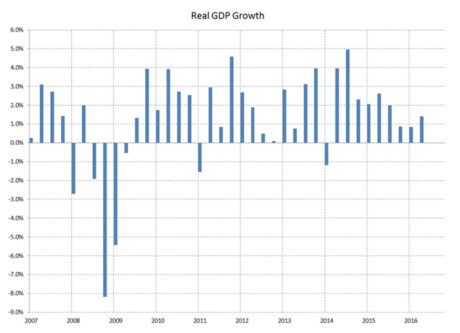 The Bureau of Economic Analysis (BEA) released the revised second quarter GDP growth of 2016. Real GDP grew at a 1.4% seasonally adjusted rate, a modest increase from the 1.1% previous estimate. The growth can be attributed to strength from consumer spending, bottoming out of oil prices and a rebound in equipment spending.
This growth in GDP seems to be accelerating following two quarters below 1% growth. Economists are predicting that the third quarter of 2016 will ramp up the GDP growth rate with forecasts as high as 3.1%.
With about two-thirds of total output coming from consumer spending, a 4.3% increase, with last quarter's gain being the largest increase since 2014. It comes as no surprise that consumer confidence has also strengthened to its highest level in nine years. The Conference Board's consumer-confidence index increased to a seasonally adjusted 104.1 in September, marginally higher than the estimated 99.1 that economist expected during September.
"Growth is a lot stronger than it looks" based on first-half GDP figures, said Scott Brown, chief economist at Raymond James & Associates. "We're still seeing a pretty strong jobs market, we expect wage growth to pick up, and gasoline prices are relatively low. That's all a pretty good backdrop."