Synergy's Stocking Match Program Takes Off at IWF
September 2016

We're slowly but surely catching our breath after participating at the best International Woodworking Fair in a decade.

What a whirlwind!

For four days – August 24-27 – the Georgia World Congress Center was a beehive of activity. The steady buzz created by the drone of machines cutting wood served as the backdrop for the more than 16,000 attendees who came to Atlanta searching for new products and ideas to improve their designs, production and bottom lines.

Synergy Thermal Foils entertained a steady stream of woodworkers who stopped by our booth in Hall B to view and ask questions about our family of rigid thermal foils (RTF). We were once again located across the aisle from Vac-U-Clamp, one of our strategic partners. Vac-U-Clamp's who showcased our 3D laminates.

The buzz at our booth was the formal introduction of a new Match Program with our industry partners Formica, KML and Uniboard.  While we have always had RTF products to match selected TFL and HPL offerings from all of the industry's major players, what makes this program launch special is that these RTF high-pressure laminate and edgebanding are all stocked in Florida and ready for immediate delivery throughout the country.

TFL Designer Matches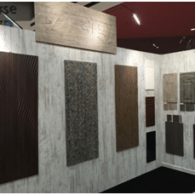 This is great news for our customers. Cabinet makers, for example, can value engineer an entire kitchen using matching TFL and edgebanding for boxes, HPL for counters, and Synergy RTF for doors and drawer fronts.
Development of our new stocking match program was driven by customer demand to more readily find matches of TFL and HPL with our RTF products. We were thrilled with how quickly our pilot program took off in Florida, leading us to a national launch that currently includes nine popular wood designs.
Laval, Quebec-based Uniboard's newest additions to the program includes Barnwood, Silverwood and Smokewood TFL, all perfect matches with Synergy's RTF products. These three oaks are among a dozen new designs featured in Uniboard's 2016 TFL Collection. A fourth design match, Memento, was introduced by Uniboard last year.
It is very gratifying that Don Raymond, vice president of marketing and sales for Uniboard, refers to us as "an amazing partner" worthy of contributing matching RTF products with his company's signature, upscale finishes.
KML of Tacoma, WA, now offers TFL for five of our Match Program RTFs:  Brown Pear, Grey Pear, Moderna Grigio, Riva and Zanno Wenge. KML is one of our oldest matching partners and we are extremely happy to have them on board with this new program.
This is only the beginning. Having nine wood designs with three great partners in Formica, KML and Uniboard reflect the high value and dynamic synergies that Synergy Thermal Foil aims to expand on in the years to come.
Click here to learn more about our matching TFL and HPL matching program.