Surface & Panel Goes One on One with Synergy President
October 2022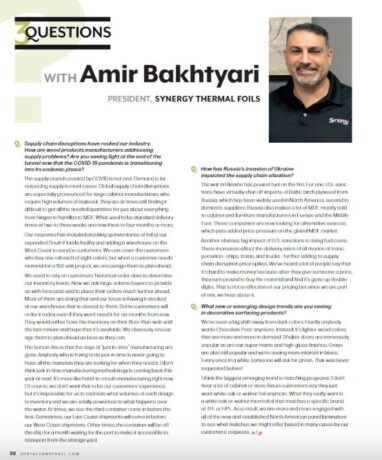 In case you missed it, Synergy President Amir Bakhtyari, was featured in the Q3 2022 issue of Surface & Panel magazine. (Note: Please bear in mind that his comments were submitted back in July. Supply chain challenges and gas price pressures have largely stabilized, only to be replaced by economic inflation concerns.)
Bakhtyari responded to a trio of questions poised by the editors of S&P. He shared his thoughts and experiences about ongoing supply chain challenges, including some of the initiatives Synergy has taken to service customers through these extraordinary times.
"Our response has included stocking up inventories of foil at our expanded South Florida facility and adding a warehouse on the West Coast to service customers. We can cover the customers who buy one each of eight colors but when a customer needs material for a 150-unit project, we encourage them to plan ahead."
He also addressed design trends. "I think the biggest emerging trend is matching programs. I don't hear a lot of cabinet or store fixture customers say they just want white oak or walnut foil anymore. What they really want is a white oak or walnut thermofoil that matches a specific brand of TFL or HPL."
Bonus Press Coverage
We were also recently featured in Woodworking Network's IWF Materials Finder and Surface & Panel's IWF Products Preview.