Scam Alert: Beware of Fraudulent Invoices
January 2022

January 7, 2022
Dear Valued Customer,
We just received a report from one of our customers alerting us that they had received a fraudulent invoice bearing Synergy Thermal Foils' name, address and logo.
While we have only received one such report, we want to make sure that you are aware of this situation. Please let us know immediately if you have received similar correspondence to the one shown below. We are working with various authorities to investigate this matter.
This is the email that our customer received. It included an invoice attachment. We have x'd out the customer's information and highlighted some of the contact information to be aware of.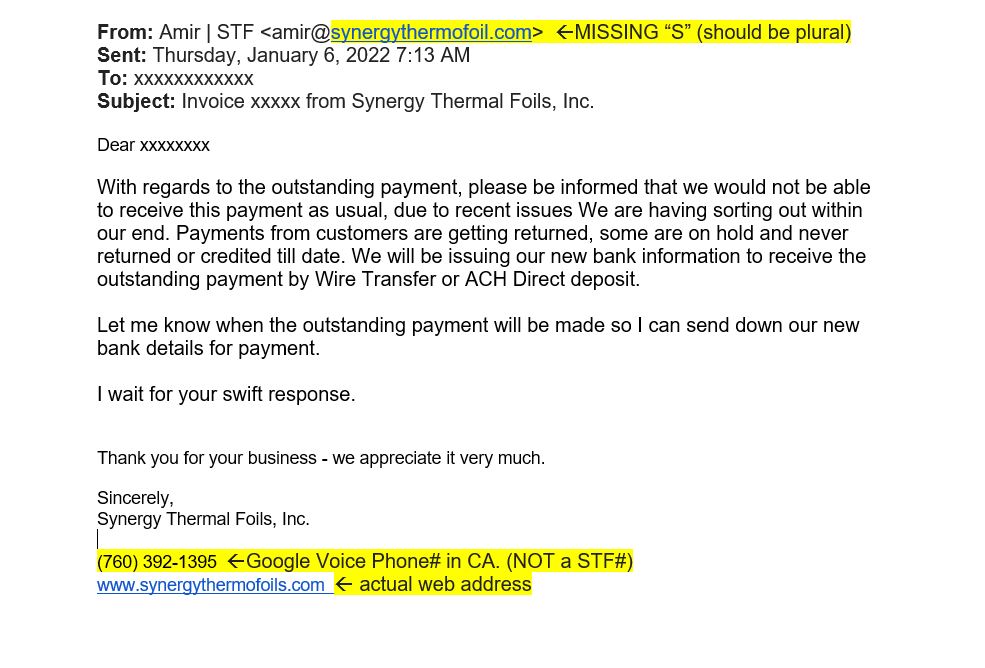 We are grateful that our customer brought this to our immediate attention and are hopeful that this fraud attempt is a one-off and not more widespread.
While we are in the process of determining if the data breach was on our end or our customer's, we think it is important that we all take note that hacking happens.
In this case, while the cover letter is poorly worded and includes several grammatical errors, it shows the great extent hackers will go to pull off their scam. Here's a few things we have learned so far.
1.     The perpetrators purchased the domain synergythermofoil.com and created an email almost identical to STF. Note that our web address and the email are synergythermofoils.com, plural.

2.     The email includes a phone number with a California area code. Everyone who does business with us knows that we are based in South Florida.
3.     The perpetrators set up an account with Chase Bank and instructed our customer to send payment there. We have not changed our bank account. We have the same banking information today as in 2010.
Thank you again for your business and trust. Please contact us directly if you suspect you have received a fraudulent STF invoice OR any request to change bank accounts for payments to us.
Please call us with any questions about payment status or to confirm any changes.
Synergy Thermal Foils
954-420-9553