New Single-Family Housing Surge in Size and Sales
June 2016

Bigger is always better. For Americans, that seems to hold true in regards to housing. New single-family houses have increased in size over the last forty years according to the U.S. Census Bureau.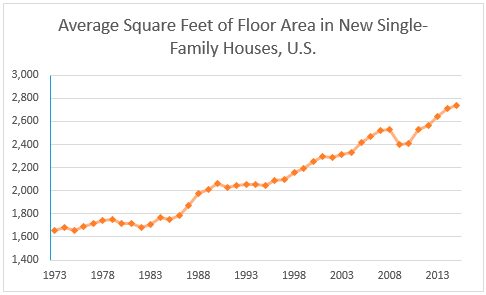 Homes are 61% larger than the median from 1975 and 11% larger than 2005. The median size of new single-family houses was 2,467 square feet last year. Not only are houses getting bigger but there is an addition of amenities, 93% of new houses had air conditioning compared to 46% in 1975. Almost 96% of new homes last year had at least two bathrooms compared to 60% forty years ago.
The housing market is continuing to gain strength due to steady job creation and low mortgage rates. According to the National Association of Realtors, the sales of existing homes increased for the second straight month in April. Along with the recent U.S. Census Bureau and the U.S. Department of Housing and Urban Development, sales of new single-family houses were at adjusted annual rate of 619,000 for April. This is a 16.6% increase from the Revised March rate and is 23.8% above the corresponding month last year. April 2016 is the strongest month in more than eight years.