Need Woodworkers? Study Finds You're Not Alone
February 2022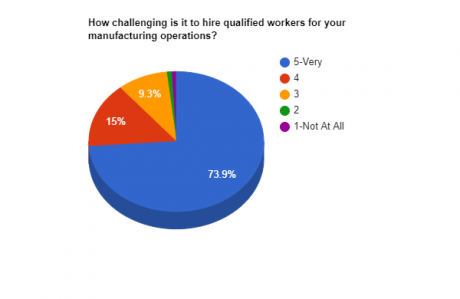 A new study of the U.S. and Canadian woodworking industry conducted by Woodworking Network and the Woodwork Career Alliance of North America reveals that the production worker shortage continues to increase at an alarming rate with no clear end in sight.
Among the study's highlights:
73.8% of the woodworking representatives participating in the survey indicated it is "very challenging" to hire qualified workers for their manufacturing operations. In addition, 57.9% said it has been "much more challenging" to hire now than three years ago.
39.3% of the respondents said their operations lost at least one-quarter of their production workforce during 2020, including 4.7% who experienced a turnover rate of more than 75%.
35.6% of the respondents said that their company's failure to achieve full, stable employment has had a huge impact on their ability to increase revenues. An additional 38.4% indicated that staffing issues have curtailed their revenue potential.