Expected Remodeling Growth in 2016
August 2015

With a recent increase in US residential home sales, there is an expected 4% increase in US residential remodeling spending for the first quarter in 2016 according to the Leading Indicator of Remodeling Activity (LIRA) released by the Remodeling Futures Program at the Joint Center for Housing Studies of Harvard University. The second quarter of 2015 experienced a 4.3% increase to $144.7 billion compared to the $138.7 billion spent during the same time period of 2014.

"Other signals of strengthening remodeling activity include sustained growth in retail sales of home improvement products and ongoing gains in house prices across much of the country," says Abbe Will, a research analyst in the Remodeling Futures Program at the Joint Center.  "Rising home prices means rising home equity, which should encourage improvement spending by a growing number of owners." (http://www.jchs.harvard.edu/)

The LIRA is published quarterly and is designed to estimate national homeowner spending on improvements for the current quarter and subsequent three quarters.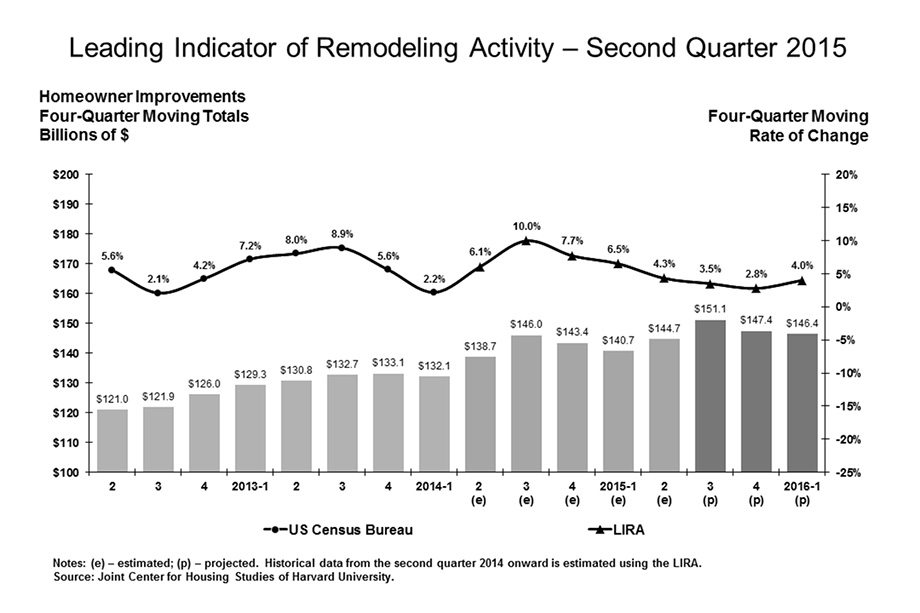 References:
"Pick-Up Projected in Home Improvement Activity Moving into 2016." (Press Release from the Joint Center for Housing Studies, Harvard University). Web. 30 July 2015.