Bathrooms Top HomeAdvisor's 2021 List of Remodeling Projects
August 2021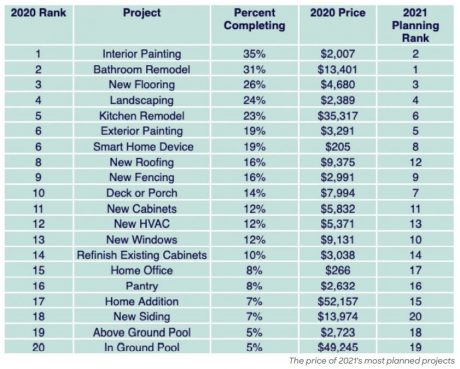 Bathroom remodels rank first among home projects U.S. consumers plan to contract professionals to perform this year, according to the True Cost Report released by HomeAdvisor. Interior painting and new flooring round out the top three spots on the list of 20 planned home projects.
Thirty-one percent of respondents reported completing a bathroom remodel in 2020, second only to interior painting. The average cost of a bathroom renovation was $13,401 last year. In comparison, kitchen remodels ranked fifth in completions (23%) in 2020 with an average price tag of $35,317.
According to HomeAdvisor, "Pricing for home services is a function of four things: material quantity, material quality, labor quantity and labor quality. Each is important, but labor quality is arguably the most important and the hardest to measure and understand. While some labor can appear outwardly expensive, great labor is ultimately a bargain considering the hidden skills, talents, wisdom, capabilities and other beneficial attributes of a skilled tradesperson."
HomeAdvisor added that material cost increases were most responsible for driving remodeling project costs higher from 2019 to the pandemic year of 2020. "(O)ur pricing model looking at each of the four major components of project price – materials quantity, materials quality, labor quantity, and labor quality – suggests that the most likely culprit was an increase in materials cost at most quality points. Scarcity and factory shutdowns, supply chain disruptions and greater consumer demand pushed lumber and other prices higher at most quality points, in turn driving higher total project costs independent of changes in material quantity.
"Looking forward to 2021, the most planned projects will likely remain elevated in cost, with the potential for further price inflation. Regardless of how much materials cost or how much one chooses to spend on their overall project, one thing remains constant: investing in quality labor is always a bargain."