AWFS in Review: Synergy Slays with Solids
August 2017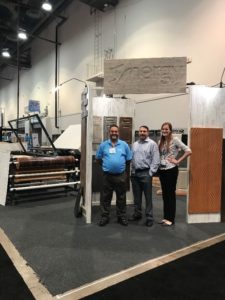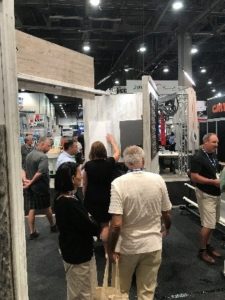 This year's AWFS Fair was a whirlwind experience like no other. Hosted in Las Vegas, Nevada on July 19-22, 2017, the biennial event boasted a 17% attendance increase over 2015. With over 18,000 participants, there was a flurry of excitement in the packed halls with everyone eager to see the latest technology and design trends.
Synergy's unique showcase of decorative wall panels attracted attention from everyone who walked by. Many people stopped simply to touch the panels; surprised that the visual design also felt like real wood. Attendees were amazed by the range of finished products that can utilize thermofoil such as healthcare tables, decorative wall systems, intricate cabinet door styles, molding and so much more.
However, the biggest attraction was the new line of solid colors that have the look and feel of painted doors. With a rise in contemporary designs that feature solid color doors; Synergy sought after an RTF solution. The introduction of STF Deep Blue Sea and Gun Metal Grey is the beginning of our Solid Paint collection, with corresponding Sherwin Williams colors: Gale Force (SW 7605) and Gauntlet Grey (SW 7019), respectively. These two colors generated plenty of buzz and were featured in some of the hottest design trends seen at some of the world's largest furniture and interior design shows such as NeoCon and Interzum.
Also featured was our in-depth matching program that featured some of the corresponding products utilized in completing flawless and cohesive designs. On this feature wall, we had our Barnwood, Smokewood and Silverwood displayed with the matching edbanding and 2D film stocked by STF along with the corresponding TFL and HPL matches as well.