A Review of the 2018 New Designs
December 2018

2018 has been an exciting and eventful year for Synergy Thermal Foils, over the course the the last twelve months we have added nearly one new color a month. The new designs have ranged from solid colors to heavy textured woodgrains and the first abstract design. This years new color additions were based on high customer demand and trending designs in the market. Now lets take a look back at this years' colors:
SOLIDS
This year was about contrast in solids. Designers are in love with our brightest white: Designer White. On the other side of the spectrum, STF introduced Crystal Black. A solid black that lives up to its name; the heavy texture in Crystal Black will stand up to even the most trafficked areas. Lastly, our most requested solid color this year, White Matte. The smooth matte finish gives off a painted door look and feel but without all the hassle!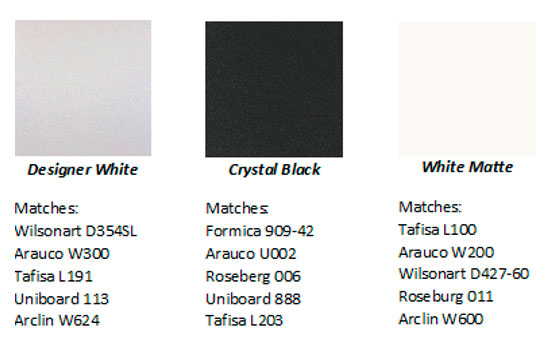 ABSTRACT
STF over the years has been known for its woodgrain designs but by customer demand we now offer an abstract design: Concrete. This color has a subtle light grey tone and an added texture that mimics real concrete. Great for tops, back splashes or even cabinets will give of the sleek industrial look that is growing in popularity.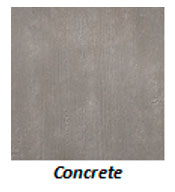 WOODGRAINS
From light to heavy textures and everything in between, the 2018 woodgrains dominated our 2018 new additions. Olivewood is a new twist on an STF classic design; a lighter version of the exotic En Vogue Olive, this latest color variation is sure to stand out in a crowd. A trend of grey has been relentless in design settings and is only getting stronger, that is why we introduced our leading performer Star Elm.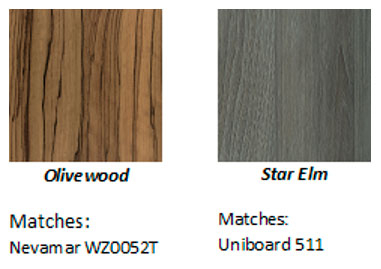 Our hard hitting designs this year have been Aged Ash and Weathered Ash.  Aged Ash with a deep texture that falls along the woodgrain pattern, for a more traditional look a light golden brown tone is sure to please and for a contemporary aspect Weathered Ash's grey tones will have a timeless appeal.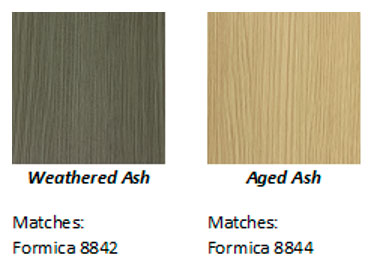 Lastly we have a trio of designs that werea big hit during its introduction atIWF Atlanta. Ember, Elmwood and Tete-e-tete all utilize an elmwood design but in three varying tones, light grey (Elmwood), dark grey (Tete-e-tete) and brown (Ember). This trio features a unique texture that have fooled even the most seasoned woodworker.